Glass Balustrade Installation London
Glass and stainless steel work together beautifully, move into the 21st century and change your old wooden spindles and hand rails for glass ones, giving your home that tasteful yet slick look. We are able to design glass balustrade installations such as staircases, partitions and balconies. Installing balustrade focal points will add that wow factor to any property, whilst giving it a refined and elegant appearance.
We are London's best glass balustrade glaziers.
Our London glaziers have installed quality balustrades and glazed pieces through over 20 years experience. We work with both domestic and commercial properties and install both internal and external balustrades.
Glass Balustrade Benefits
Glass balustrades provide a beautiful finish to most properties. Their transparent properties allow for better views. Because they are made of glass, the feeling of light and space is also enhanced.
We install glass balustrades in staircases, balconies and terraces.
London glass installation is our speciality and we have many years of high quality work under our belts. If you want an elegant glass balustrade in your property then call us today.
Glass Balustrade Finishes
If you are wondering about the "best looking glass balustrades" consider our variety of finishes.
Brush Finished
For a characterful finish we use an abrasive brush to give the balustrade a look of aged distinction and permanence. This can establish a strong design in your property.
Satin Finished Steel
This is the classic steel finish that is strong and sturdy but not overly reflective of light.
Frameless Glass Balustrade
These stunning pieces add flair, imagination and style to most properties. An unusual design like an infinity pool – seeing a frameless glass balustrade excites the imagination. They are strongly reinforced to ensure safety and stability.
Our glass can come in a range of colours and finishes so don't let the status quo get in the way of your creative design ideas!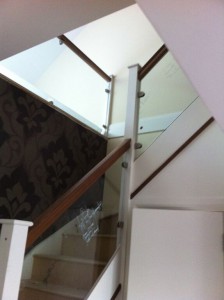 If you are still unsure please give us a call for an obligation free quote and advice.
Glass Balustrade Services London
We install glass balustrades but if your glass balustrade becomes damaged or the glass get smashed or broken we can also repair your glass balustrade.
Living in London can mean a hectic working life and sometimes smaller than ideal living spaces. With the hussle and tussle damage to glass can happen. If it does our emergency glaziers can be with your London property within 40 minutes. We have service agents spread out across London, from Shepherds Bush to Enfield and back down to Hackney.
If you need help with your glass Balustrade needs then give us a call.
We can restore glass that is cracked or replace glass that is too badly damaged to be restored.
When we fit a glass balustrade it comes with a guarantee so you can rest assured our work is of the highest quality.
So whether you want a frame-less glass balustrade or a stainless steel finish our Local London glaziers can help you.
We have 24 hour phone support so if its an emergency job we can come to you within 40 minutes.
Ring today for a free no obligation quote.