Sash Window Repair London

Get Free Quote
Sash Windows can provide a simple yet understated style and charm to a property for minimal cost. Many properties in London have sash windows and we are able to replace and repair them if they get broken or damaged. We can provide restoration of traditional windows, from overhaul and draft proofing, to complete replacement. This includes re-attachment of sash cords and re-weighing the sash window. Our experts can repair and renovate Edwardian windows in heritage properties so as to preserve authenticity, or fit replacement windows chosen to be sympathetic to the architectural style. We can replace single glazed sash windows with double glazing and can also install uPVC sash windows for those who require more energy efficiency and easier maintainance.
We offer a full range of products including UPVC sash windows, Timber casement windows, Timber sash windows, casement windows and all types of external Doors.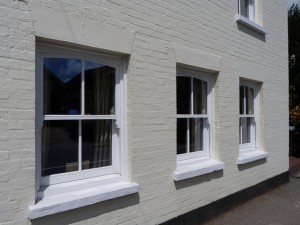 Sash Window Rennovation & Restoration
To date we have worked on properties large and small across the Ealing area, doing our bit to bring sash windows of all shapes and sizes back to life. In terms of the function of a sash window, when they are able to work properly your property will be so much better insulated and this will benefit the degree to which your property is able to keep warm.
Edwardian Glass Restoration
So often, people are in fact surprised at our ability to help restore sash windows to their original condition. This is by far the most cost effective option. When you invest in this as well coupled with the bespoke draught-proofing system that we build in to our refurbishments you end up with a fully functional window. This means your window is able to work better in terms of its overall heat conservation and noise reduction than before.
London Sash Windows Glazier
We offer a friendly, reliable approach to customer service with highly experienced staff. We can guide you through the ins and outs of fitting, repairing or installing new sash windows to your property.
Our products are designed specifically to suit our customer's needs, from replicating heritage design to using modern cutting edge technology for the best in energy efficiency and safety. We are committed to ensuring high quality work with our entire product range & installation process.
We are rated highly on Check-a-Trade & Google by our valued customers.

Sash Windows blend seamlessly into the architectural style and feel of many London properties. For relatively low cost their installation can add a lot of style to a property facade.
Our glaziers can fit, repair and restore sash windows in London – at a surprisingly affordable price!
If you have any questions about our products or services, feel free to call today on 0207 118 0855 or 07415 370 608. Alternatively, please email us direct today at – info@24houremergencywindowsglass andglazing.co.uk
Our estimates are 100% free and there is no obligation for you to go ahead with our work.
All our window installation and window repair work is guaranteed and in cases where emergency work is needed we can reach you within 40 minutes.