Shower Screen Repair & Installation

Get Free Quote
Installing a shower screen is a simple yet effective way to utilise the bathroom space available, making any bathroom appear larger. If the glass in your shower screen has been chipped or cracked, or the hinges or rollers are no longer operating as they should, we are able to provide a full repair and replacement service. Your shower screen can be designed in various glass thickness, from 6mm up to 10mm, with self-cleaning glass and beautiful polished edges.
London Shower Screen Company
We supply and install bespoke toughened glass shower screens including doors and cubicles for bathrooms, showers and wet rooms.
Our options include fixed screens and frameless enclosures. We can provide doors hinged to a supporting wall or even a shower/wet room door attached directly to the glass screen itself.
We operate throughout London with service agents ready to take your order. From there we arrive at your property to install the shower screen materials necessary.
Our glaziers have over 20+ years of experience so difficult spaces, bespoke shower screen designs and complex walk-in showers are just a part of our work. No job is too big, or too small for us.
All of our showers can be supplied with fittings in brass, stainless steel or chrome finishes.
Best Shower Screens
There are many shower screen designs to choose from so deciding "which is the best shower screen for me" can be tricky.
Here is a helpful list of some of our glass screen products.

Toughened Glass Showers
These strong glass shower screens typically come 10mm toughened glass for optimal durability, safety and rigidity.
They are an excellent investment in the value of your home and for an additional cost we can add self cleaning technology.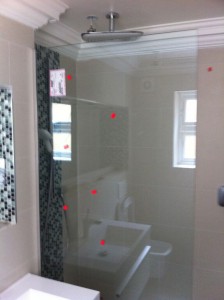 Ask us how – 24 hour hotline – 0207 118 0855.

Sliding Door Shower Screen
These nifty screens have a clever design which means they dont swing out taking up valuable bathroom space.
Furthermore as they are always inside the shower area our customers find that cleaning and maintenance are a little easier. Especially when they do not drip on to the floor outside the shower.

Framed Shower Screens
These are a popular choice for families as they provide a full enclosure which is made out of glass panels supported by an aluminium frame. They come in a variety of configurations and are perfect for bathrooms of all sizes. Fully framed shower screens are a great choice for homeowners on a tighter budget.

Bi-fold Shower Doors
These shower screens are both practical as well as stylish. While they save space, their opening mechanism also makes them sleek and attractive. They often add value to a contemporary style of bathroom and they are able to have two or more folds.
Free Shower Screen quote
So whether you want bespoke shower screen glass designs, bi-fold screen doors or a traditional shower screen our Local London glaziers can help you.
We have 24 hour phone support so if its an emergency job we can come to you within 40 minutes.
Ring today for a free no obligation quote.