Bespoke Splashbacks London

Get Free Quote
Glass Splashbacks are made to measure, versatile and reflect light brilliantly, unlike other surface materials such as tiles. We are able to offer back painted glass solutions for variety of of uses, such as in kitchens and bathrooms, made to any colour preference. Our end to end service will enable you to create a special unique atmosphere in your home, as we will take care of the design, manufacturing and installation of the glass.
Glass Splashbacks London
We provide glass splashback installation services for kitchens, bathrooms, shower rooms, wet rooms and toilets. These can come in a variety of styles and colors.
As a standard our bespoke splashbacks are heat resistant, easy to clean and extremely durable. Our installations ensure there are no messy grout lines that could harbour germs or mould. This also ensures the color of your splashback stays true. The real beauty of our products is that with just a clean wipe your splashback will stay fresh and shiny for years and years. Our work is guaranteed and the quality, second to none. We make sure peeling and discoloration of your glass splashback does not happen.
Toughened Glass Splashbacks
We fit toughened splashbacks in London on a regular basis. Our glaziers have over 20 years and we choose only the best products for our clients. The benefits to this technology is that they are heat, scratch and impact resistant. So when fitting a toughened glass splashback to your kitchen, the heat cooking do not affect the quality and durability of your splashback. Likewise in a busy room, a toughened glass splashback will stay as strong as the day it was installed.
Our glass splashbacks come in many colours and we can colour match for you if you have a specific colour in mind.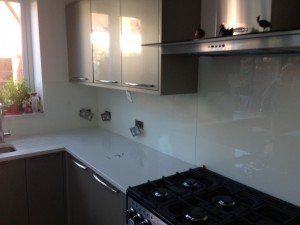 Fitting Glass Splashbacks
The design and production of splashbacks is only half of the job. Fitting the splashback can be just as time consuming and so is best handled properly, the first time around.
Some people like to try and DIY their glass splashback installation. While this is not always a bad idea 24hour Emergency windows glass and glazing do find themselves dealing with a few DIY disasters now and again!
Measuring a glass splashback for installation is not as easy as it looks. Tricky wires or plug placements can hamper a splashback fit. Elegantly using the silicone gun takes years of experience to master and so messy streaks can occur if not used correctly.
We can handle all of this for you and ensure a professional, clean and tidy job.
Whatever your splashback needs give us a call and we can advise you on the best outcome.
Local London Glazing Services
So whether you want an impactful stylish red splashback or a practical easy-clean glass splashback for your kitchen, our Local London glaziers can help you.
Our work is of the highest quality and all of our glass splashbacks come with a guarantee.
We have 24 hour phone support so if its an emergency job we can come to you within 40 minutes.
Ring today for a free no obligation glass quote.