Skylights and Velux Windows

Get Free Quote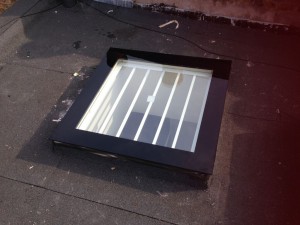 Skylights and velux windows allow you to benefit from increased natural sunlight in your home and stunning panoramic views of London. We are able to manufacture and install skylights and velux windows to your required size, as single or double glazed units. We can supply roof windows with glass thick enough to walk on, designed specifically for roof terraces and areas requiring regular pedestrian access.
What should I look for when buying a skylight?
First of all to answer this lets look at which location it will be installed in.
Will it be in a kitchen, a bedroom, or perhaps a darkly lit basement? All of these different rooms will have different requirements for the correct skylight installation.
The most popular reason for having a skylight is to allow natural light as opposed to artificial lighting to brighten your property.
Choosing the correct glass to allow light in without overheating your home (due to the greenhouse effect) will be one of the most important decisions.
A rooflight specifications will massively depend on the room it is being installed in. For example a room near a very busy London street may not want a huge skylight that will be energy inefficient or noisy.
Types of Rooflights
Which is the best rooflight for you? What are the best skylights?
These questions can only be answered by looking at the various options for skylights in London.

FIXED FLAT ROOFLIGHTS
This style is static and does not open. It is low maintenance and very popular in London.
They are good for energy efficient heat insulation and noise reduction.

PYRAMID SKYLIGHTS
A pyramid shaped skylight offers maximal light contact. The shape of these attracts sunlight from many angles which maximises your access to natural light. Not as energy efficient as the fixed flat skylight but visually stunning.

OPENING ROOFLIGHTS
During those hot summer months an opening rooflight can really wow your guests. Even in a small hot kitchen these skylights can provide a lot of practicality to your property.
They use a mechanism which is easy to maintain and control.
BESPOKE SKYLIGHTS
We can cater to your requirements. Our glazers are highly experienced in fitting skylights and can help guide you through the design process to ascertain the perfect rooflight for you.
London Skylight Service
We will then provide you with the full rooflight service to fit and install them into your property.
Once we have selected a design we will choose which kind of glass to install in your roof window.
Options vary but center around the following 4 topics ; Energy Saving, Temperature Control, Noise Reduction and Security.
Our glaziers operate throughout London. We have over 20+ years of experience specifically with London glazing. We know how to match the character, architectural style and materials of a typical London property.
For a free, upfront and punctual quote from one of our polite and experienced glaziers, please call now on 02071180855 or 07415370608 or alternatively please email us at info@24houremergency windowsglassandglazing.co.uk and we will be right with you to help accordingly.